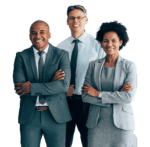 You need the right software and the right partner
We deliver Microsoft Dynamics 365 Business Central, Dynamics 365 CRM, and Dynamics GP solutions
why we make a strong partner.
As a partner, we are part of your team.
The people who build your system are the same people providing you support, if and when you need it. Our ongoing customer service is what sets us apart from the pack. Our team members pride themselves on using their experience and know-how to quickly get to the heart of any issue.
We design, customize and deliver accounting solutions.
In our world, there is no such thing as a cookie-cutter approach. The software solutions we create for you are thorough, integrating with your existing systems, and if necessary, customized where it makes sense for your business.
We've proven we deliver software that works for people.
For over 20 years, we have helped clients establish and improve their Microsoft solutions. Our client retention is high because we deliver a level of service backed by experience that ensures their investment delivers results.
"I would highly recommend Joesoftware for any company looking for a Business Central 365 partner. The staff at Joesoftware are knowledgeable and were proactive in effectively implementing our ERP solution with absolutely no disruption to our business. If your business is looking for a Business Central 365 integrator, I don't think you could do better than Joesoftware!"