For the second year, GP User Group (or GPUG) has run their Amplify 2017 conference from March 21st to 23rd.  This conference is dedicated to Dynamics GP only, so the content is very focused. Although GPUG is not a Microsoft company, Dynamics GP employees have a significant contribution to the conference content.
The much-awaited Microsoft Dynamics GP Roadmap provides guidance on what is planned for the next release, GP 2018, slated for late 2017 release.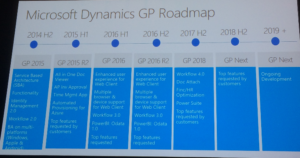 Key developments for GP 2018 include more workflow updates referred to as "Workflow 4.0", additional document management enhancements, finance and HR optimization, and new functionality called Power Suite.
The following Opening Keynote video from the conference includes the presentation of the Roadmap, together with demonstrations of some of the newest functionality in GP 2016 R2 and a view of some of the features already completed for the GP 2018 product.  If you are interested in the advances in GP, take about an hour to go through this presentation to see how these updates and new features could benefit your operations.
The key takeaway is that Dynamics GP is still a very important part of the Microsoft Dynamics solutions and they remain committed in their investment to continual improvement.  This is important for those who might question Microsoft's commitment to GP, as this reinforces Microsoft's intention to continue developing it long term.