Blog
The news and information your business needs.
Microsoft Announces Dynamics GP Commitment
Dynamics GP will Continue to be Supported to 2028 and Beyond
Back in September 2019, we wrote a blog on Microsoft's announcement that Dynamics GP would fall under the new modern policy. This was an important message from Microsoft as it indicated to the GP community that there was an increased commitment for the software and it suggested that the company would stay committed for the long term. However, since that time we have been waiting for an expanded message from Microsoft.
Well, it is now official! Microsoft has published the new Lifecycle Roadmap for Dynamics GP and its commitment to Dynamics GP to 2028 and beyond. For more information, you see the announcement from Terry Heley, Microsoft Senior Escalation Engineer for Dynamics GP. The graphic below is the official roadmap release from Microsoft.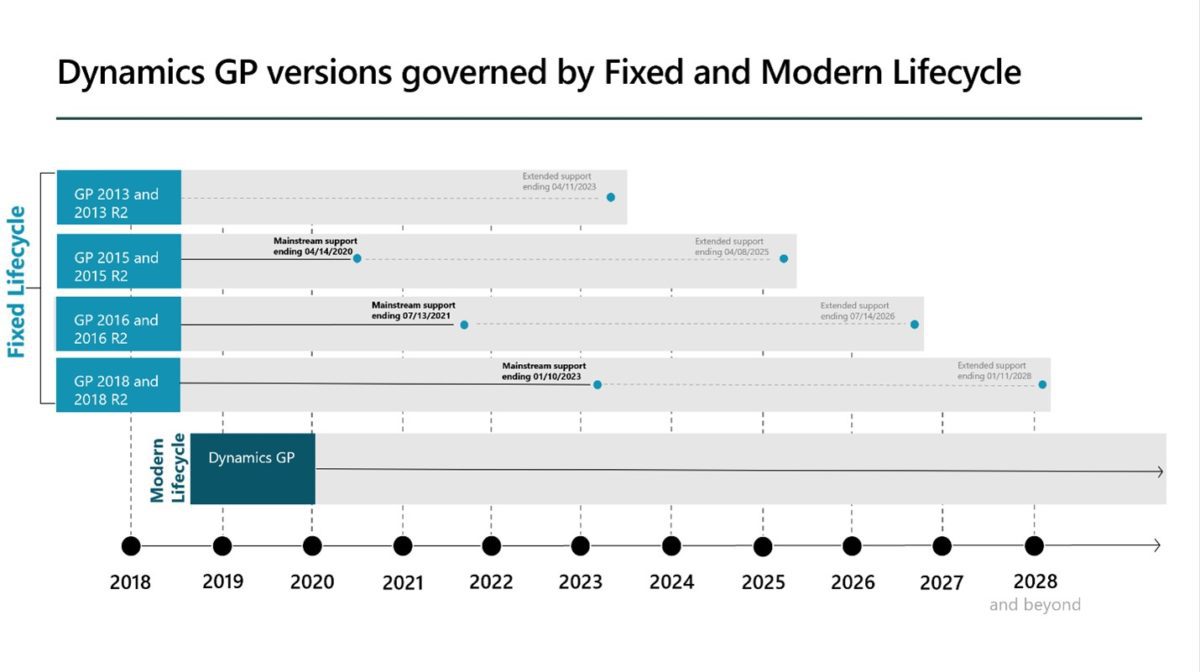 At the end of the day, this announcement from Microsoft demonstrates the commitment to Dynamics GP by extending the Modern Lifecycle beyond the Fixed Lifecycle.
What Does this Mean for Dynamics GP Customers?
This transition from Fixed Lifecycle support (with a predetermined end date) to Modern Lifecycle support (no end date) indicates that Microsoft will keep improving and maintaining the software. In addition, GP will receive more regular updates which when compared to larger version upgrades, these all-inclusive updates are easier to manage and deploy.
The overall message is that there is no requirement for at least 5 years, for any GP customers to feel they need to switch to an alternative Microsoft solution like Dynamics 365 Business Central. If there was a belief that GP was going away, we can confirm that it won't happen for likely 10 years or 2033.
Even though this is good news for many customers who thought GP was going away, we do encourage GP customers to consider their strategic planning on a 3-to-5-year horizon and assess their organizational ERP needs over that time. This means considering things like pain point reduction, driving out inefficiencies, improved reporting, or even reducing infrastructure by moving to a GP cloud hosting infrastructure. Part of the strategic consideration could also be a possible move to a new cloud-hosted solution like Business Central sometime in the future. To help through some of this thinking, Joesoftware is offering a complimentary 90-minute roadmap consultation to kickstart this planning. If you have Dynamics GP and are interested in this session, contact us to find out more or book your session.