12 Weeks of Winter – Week 11
In our last blog, Week 10 of the 12 Weeks of Winter, we focused on some Purchasing and Fixed Asset features released with GP2013 and GP2015.   With over 100 new features available with the newest releases, I want to give you a quick overview of what else you can look forward to.   If you are looking specifically for GP2015 features, the Dynamics Community has a blog with videos and details around the new features that is definitely worth you investment of time.
As someone who has worked with the Dynamics GP product for many years, I find it hard to focus on one area when it comes to new features.  Over the last 10 weeks I have highlighted the "Wow" features; however I don't want to overlook some of the nice-to-have items.   In many cases, it is those little things that get you excited and reaffirms your decision to upgrade!  Here is a quick 60 second overview for GP2013:
Email Functionality:
SOP back order and packing slip documents
RM Customer Statements
Home Page:
Outlook has been removed
Metrics was replaced by the Business Analyzer (see Week 8's blog)
You can maximize and minimize area pages in your home page
You can move area pages within your home page
You can customize the number of columns and location of display on your home page
Self Service is a new home page role
Desktop Action Pane:
User Preferences allows you to select how to display commands in the Dynamics GP windows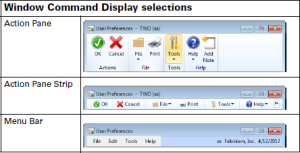 Lookups:
The sort order is saved on a per user, per company basis when you save a default lookup view for your master records in the following windows:
Items lookup window
Employees lookup window
Customers and Prospects lookup window
Salespeople lookup window
Vendors lookup window
Security:
Changes to how you can interact with the Alternate/Modified Forms and Reports window
SmartList:
New submenu has been added. From the Favorites Pane Submenu you can hide or show the Favorites Pane, increase or decrease the size of the Favorites Pane and choose to automatically hide the Favorite Pane after selecting a SmartList Favorite.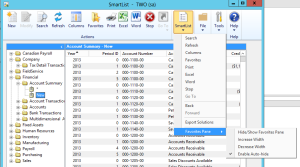 General Ledger:
Mark the Clear Balances During Year-End Close for Unit Accounts
More options available during the Year-End Close for inactive accounts with zero balances
View the Status/Progress of your Year-End Close once you hit the Year-End Close button
Payables Management:
Ability to change the remit to Address ID on existing payables transaction – allowing an edit rather than having to void the transaction
Reprint remittance forms and check stubs
When voiding a payment that has a credit or return applied to an invoice, the credit or return is automatically unapplied from the invoice and be reapplied as needed
You can combine a vendor ID with another existing vendor ID using the Vendor Combiner and Modifier window
You can now set up a default sort order for printing your cheques
Receivables Management:
Define labels for user defined fields in Customer Address Maintenance
View the Checkbook ID in Cash Receipt window that the Cash Receipt was applied to
You can combine a customer ID with another existing customer ID using the Customer Combiner and Modifier window
Bank Reconciliation:
The Outstanding Transaction Report is now included in the reports that can be reprinted
Analytical Accounting:
Fixed Asset Management
SOP deposits and payments
Finance charges
Landed Costs in POP
Electronic Banking:
Enhancements to both the EFT field length and the EFT settlement date
As you can see, the list is long – too long to highlight every new feature.  For more features and in depth details you can check out the Dynamics Community blog for GP2013.
Stay tuned as the calendar turns to March where our last blog of our 12 Weeks of Winter will take out the unknowns around your upgrade and have you looking for ways to start benefiting from the many new features highlighted in our 12 Weeks of Winter.
For more information on Dynamics GP please visit Joesoftware or contact Patti at patti@joesoftware.com.