12 Weeks of Winter – Week 9
In Week 8 of our 12 Weeks of Winter we walked through the Business Analyzer and provided you with a link for some in depth training by Microsoft.  I hope you had a few minutes to dig into this powerful "Actionable BI" tool that is available with the Dynamics solutions.   Our focus in these 12 Weeks of Winter is to showcase valuable features that provide you with reasons to upgrade your Dynamics GP solution.  Although a lot of our topics are focused on GP2013 R2 which many of you are already using, today we are going to highlight functionality introduced with GP2015 that will surely get you writing "excited" on your list of feelings when it comes to planning your upgrade.
Most of us have used SmartLists to extract data from the tables, this simple tool has been a great resource for users of the Dynamics GP solution.   If you are looking to create mailing lists or labels or drill down into some inventory details or looking for some basic payroll data, using SmartList has been the right tool.  What I hear from end users is a data dump just isn't enough – we really want information which is quite different.
With the release of GP2013 R2 Microsoft introduced the SmartList Designer.   It is part of your GP2013 R2 solution – not something extra you have to purchase and it is intuitive enough for the average end user to use to start building lists of information vs. the data dump that I referenced earlier.
The SmartList Designer provides an interface that allows you to create queries based on table definitions found in Dynamics GP and third party applications.   You can create a new SmartList from scratch or you can create a SmartList based on an existing SmartList.   You can also modify the SmartList that you created using the SmartList Designer to add filters and criteria important to your search.   And taking it up a notch so that you are able to create valuable "information", SmartList Designer allows you to add in calculated fields.    You will know you have access to the Designer when you open your SmartLists and you now see a "New" button at the top of the SmartList window.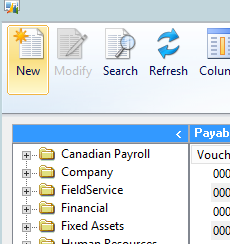 Once you click on the New button, the SmartList Designer window opens and you can work on creating your new SmartLists.
Moving to the "exciting" part of this new feature, with the release of GP2015 you can now take these SmartLists and publish them to your network as a Refreshable Excel Report.  No more logging into Dynamics GP to pull that information – what you will find on the SmartList Window with GP2015 is a  Publish button.   Check out the Microsoft Dynamics GP Community blog where you will find details around the requirements to deploy this new feature. https://community.dynamics.com/gp/b/dynamicsgp/archive/2014/12/01/draft-gp-2015-new-feature-creating-refreshable-excel-reports-based-on-smartlist-designer-queries.aspx
Business Analyzer and now SmartList Designer with refreshable Excel reports!  "What's next?" you ask. Week 10 is going to move back into the core functionality and talk about some long awaited features within Purchasing and Fixed Assets.
For more information on Dynamics GP please visit Joesoftware or contact Patti at patti@joesoftware.com.