When taking on a new project, you don't always understand the scope until you jump in.  Remember the first time you watched a program on how to reno a bathroom?  You saw the end-product and it looked so simple.  Weeks later you were stuck and frustrated with a barely functioning bathroom amidst debris and unfinished details.  This is a great metaphor to the way an ERP implementation can feel, and customers often wonder why.  There is so much behind the scenes preparation and planning that goes into every implementation.  "People need to understand that a great ERP implementation is strategic and should be viewed as an ongoing business activity to truly get the best value", says Gord at Joesoftware.  When companies start looking for a new system they are often looking to solve some immediate pain points.  They see some slick features during a demo and get excited about the possibilities but fail to get to the finish line.  This blog post is intended to help understand the evolutionary nature of an ERP so you can turn Microsoft Dynamics GP into an oasis of information flourishing with insight.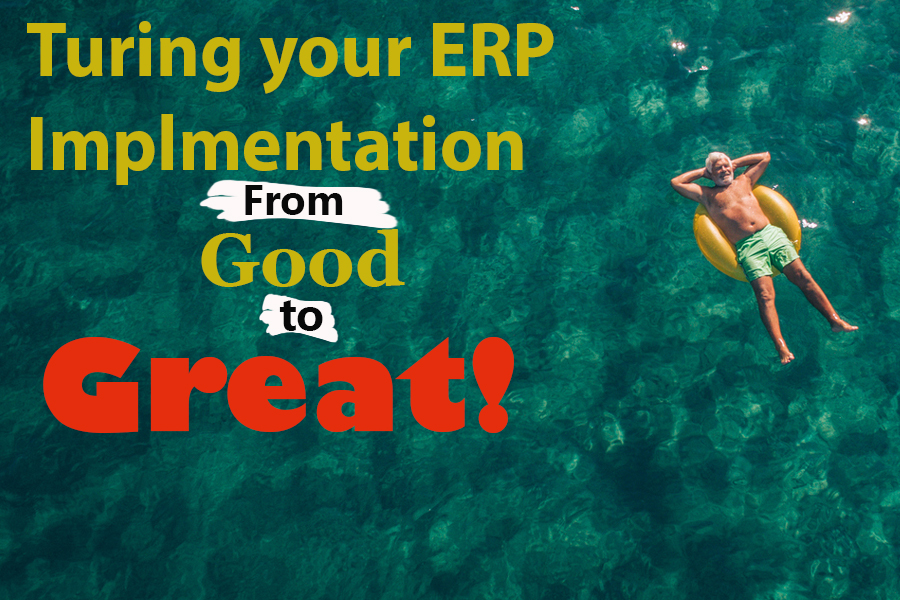 1 Seeding
It all starts with an air of optimism and anticipation when you decide to undertake the project.  You jump in only to realize you may have bitten off more than you can chew.  Picking a competent contractor allows you to benefit from their expertise; however, they don't fully perceive your vision for the final product.  You point out your immediate pains and some major features you desire, and you anxiously await your new bathroom to appear in a few moments.  As the project takes flight, you are excited until you realize the extent of the reno.  Suddenly, your house is turned into a construction site with dust and supplies everywhere, and people all over the place.  Your world has been turned upside down, but somehow you manage to get through it.  Some months later you have a finished bathroom that fixed your major pain points, but it's not what you expected.  Your finished product looks quite different than the one you saw on TV.  It has everything you asked for but somehow the wow factor just isn't there.
When you implement an ERP system, it can feel like that bathroom reno.  As the project starts everyone is excited for the possibilities ahead but in no time this feeling evaporates.  Your business struggles with the stress of running the day to day processes on the old system while learning how to run the new system.  Your staff feel inundated with a million decisions and details.  After months of implementation, the new ERP system is finally up and running and most of your major pain points have been solved but your team is exhausted and you don't see any bling.  As you reflect on the process, you can clearly see benefit but rather than feeling excited you are just relieved to be back to processing transactions again.
2 Cultivating
Sometime later, as the memory of renovation pain fades you start to assess where you are at, questions like, "Am I really that much better off?" and "Why am I not ecstatic?" cross your mind.  You have achieved a bathroom that is functional, but now you have new peeves.  As the emotion subsides and you think critically, you can clearly see a few details you simply overlooked at the time.  The bathtub faucet is in the wrong corner to see the sun set and the door brushes the towels off the rack when it is opened.  You realize that through the change you have introduced new, unintentional annoyances.  You can choose to live with the annoyances or you can push to overcome them as the effort and cost is low but the value is high.  Once you have this mindset you begin to believe the time, effort and money was worth the trouble.
Typically, this phase in an ERP implementation occurs after a few years.  Your company has been functioning on the new ERP system, but things just aren't as you imagined.  As time goes on, you start to notice some new quirks.  It is crucial to explore these to make sure you are getting the most out of your ERP.  You are efficient at operating the system, but now you are wanting more.  You can clearly envision how the system could transform your business because you have become knowledgeable about its capabilities and you better understand how to work with your implementer to get meaningful results.  Your implementation partner has become more intimately aware of your business nuances. Both parties can contribute ideas for meaningful tweaks.  Your system now has a few years of data to trend on and leveraging this information can create better business processes that empower growth.  At this point you start to become excited again as you fully appreciate the capabilities and possibilities for your company.
3 Harvesting
Finally, as you reflect on your reno, you can truly sit back and enjoy the bathroom you created.  Your vision has evolved over the process and every detail has purpose and precision that effortlessly compliments your priorities.  When your bathroom needs an update, you can see how a few small adjustments will make the bathroom just as relevant then as it is now.  Your bathroom now resembles the one you saw on TV.  Regularly updating the paint colors or the towels adds significant change to the space, while keeping the costs low. These minor tweaks have substantial value that allow you to update your space with ease.
After a few iterations of the Cultivating phase, you feel invigorated by your ERP.  Although the breadth of change has diminished, the need to step back and seek improvement should not change.  Your business has evolved whether in activity, size, geography or service lines, and any of these can create new system bottlenecks.  Your ERP maker understands the potential of new functionality to enable your business; this is the trademark of the most profitable companies.  Your expectations continue to evolve, although in this moment your overall satisfaction is high.  During this phase, you should periodically check back in with your implementer to do a BPO (Business Process Optimization) or an analysis of your ERP to ensure it is still efficient.  These regular minor tweaks and updates keep your system relevant.  As your company grows, changes and evolves, it is important to allow your ERP to evolve with it.  This approach allows your system to support and drive your business longer.  It is in this phase where you have the ERP system you were shown in the demo, and you feel like you received the best return for your time and effort.
Falling in love with your ERP is easy.  The success is a direct outcome of strategic evolution.  If you think an ERP is a one time or cookie cutter exercise, you won't be happy with the results and your ERP will limit your success.  If you treat ERP improvement as an ongoing business activity, it becomes a tool to re-envision your business and one that drives competitive advantage.  With continuous reviews of your system you can guarantee your ERP will continue to empower your business, and you can guarantee you will love your ERP.