Microsoft Dynamics Integrations
Integrate your existing software and systems with Microsoft Dynamics ERP, Dynamics 365 CRM and other applications.
Joesoftware specializes in building these connections.
Your business currently has software and systems that keep your organization running. As you look to add a new Microsoft Dynamics solution, you need these systems to work together and integrate with your Dynamics ERP and CRM systems.
Joesoftware has demonstrated experience in synchronizing on-premise, cloud or legacy applications with Microsoft Dynamics GP, Dynamics 365 CRM or Dynamics 365 Business Central. Our team will integrate your POS, billing system, inventory management and more.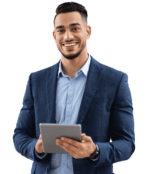 What can you expect from us?
Technical know-how
Joe creates and installs software (which is called middleware) that allows one system to talk to and work with another.
Smooth, seamless transfers
We ensure data and information transfers smoothly between your systems, even if your existing systems are not Microsoft-based.
Understanding your business.
An integration is about more than just software. We take the time to understand your organization and business, your current processes and how you could operate more efficiently.
Joesoftware is your software integration partner.
The commitment and insights we bring to integrating your existing and new software will ensure your organization maximizes its potential.
Let's get the conversation started