12 Weeks of Winter – Week 10
In Week 9 of our 12 Weeks of Winter we reviewed SmartList Designer and the ability to publish your SmartLists out to a refreshable Excel report.   I am sure you are planning ways that you can take advantage of this functionality and share information more easily with non GP users.
I want to take us back to some basics this week and discuss a few new features that many of you have been looking for within some of the core modules.  Let's start with Purchasing.  In our previous blogs, we reviewed the addition of the Purchase Order Approval workflow giving you the ability to route your PO's through your organization based on your business rules.  The same is true for Purchase Requisitions in GP2013R2.  You can create your business process for how a requisition is routed, set required fields, route to managers or route to budget approvers.   In addition to the workflow there are also a number of other features that customers have been looking for, such as the ability to create a pre-payment on a purchase order and the ability to generate a computer cheque in AP from this entry – this is definitely something that will help save you time and keep you organized!
With the release of GP2015, an option has been added to the Payables Management Set up window that displays a warning when there are Open Purchase orders in the system.  This option will help prevent entries ending up in the wrong module – a nice way to keep track of your payables and a great way to prevent over-accruing for purchases!
Moving onto Fixed Assets, there are a number of great-to-have new features.  Two features that really stand out with the release of MS Dynamics GP2013 R2 are the ability to default the next Asset ID based on Class when a new asset is created and the ability to reverse depreciation for all assets or a group of assets.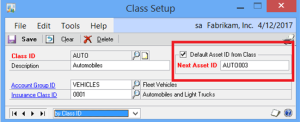 In addition to these two features, there are a few more long awaited items now available with the latest versions of MS Dynamics GP, such as:
posting in detail to the GL,
being able to edit the distributions before posting the batch to the GL,
the addition of the Fixed Assets Intercompany Transfer function, and
integration of Analytical Accounting to Fixed Asset Management.
For those of you who work with Fixed Assets on a regular basis, these are probably really good reasons for you to reach for your pen to get "excited" on your list of reasons to upgrade!
We are coming to the end of the 12 Weeks of Winter, with 2 weeks left to convince you that "excited" should be on your list of reasons to upgrade your Dynamics GP solution!   With over 100 new features released in GP2013 and even more with GP2015, don't miss our blog next week as we highlight many more reasons to start planning for your upgrade.
For more information on Dynamics GP please visit Joesoftware  or contact Patti at patti@joesoftware.com.